Have you thought about offering your members personalised team sliders and flip flops?
Fully Customisable Strap Design
The options are endless, we print full colour directly onto the strap covering the whole visible surface.
We use the market leading sole's for maximum confort. Trust us, we have tested them all and these are the best.
We sure you will be 100% satisfied, but if not get in touch and we will sort everything out.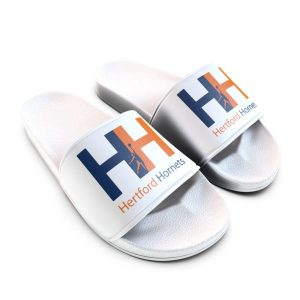 We provide customised sliders and flips flops to a huge number of sports teams, universities and schools.  We can print anything on the sliders and flip flops although, most teams we supply are simply putting their logo on to them. There are no minimum order quantities and we can personalise each individual pair.  Discounts are available for x10 pairs and over.

We've attached a few photos so you can see what we do.   Sliders are manufactured in the UK so we have quick lead times if needed.  We offer two options either embossed or stitched, there is no difference in price.